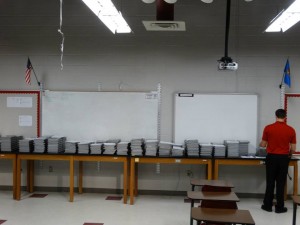 In a perfect world, all 950 devices will be hand delivered to each student ready to go. We know that doesn't happen and it requires a team of people to get the devices set up before the student can use them in an 1:1.
Management: If your team decides to purchase some type of management for your devices, then many of the steps below can be completed using remote management….. if you pay to have the management to be pre-installed on the Chromebooks before you receive them.  White Glove service is one thing you want to add to the CPS. If you don't pay this cost, someone will need to sign into every Chromebook before the settings can be pushed to the device. The same is true for other types of devices, so make sure you look into how the management gets on each device and what is possible with the management.  If you plan on setting up the device when you distribute them, make sure your infrastructure is configured to allow this.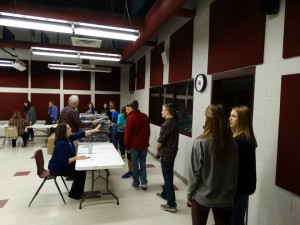 Distribution: The day will come when it is time to get the device in the hands of the students. For us this was the first time we tried to distributed almost 900 devices to students in two days.  The day before the official distribution, we tested the process with one teacher's classes and I'm so glad that we did. During this day we figured out that our infrastructure was not ready for a classroom of 30+ devices trying to access the public network (to pull the settings from the management). We were able to use a cellular hotspot to connect 10 devices at time, but we knew this was not a solution, for the remaining 800 devices.   As our network specialist investigated why the public network could not handle so many devices as once, my TSI staff and teacher volunteers, touched every device and connected them to the public network so that the Chromebook network settings would push to each device.  This took over 5 hours, but was worth the time the next two days.