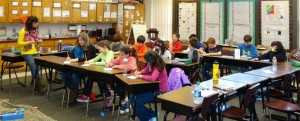 For most of the last 30 years in education there was only one form-factor when it came to the primary technology added to a classroom, a desktop computer. CRT, CPU, Keyboard and mouse.
Just as he did in 1984, Steve Jobs changed the playing field in 2007 with the introduction of the first iPhone. This device changed classroom technology expectations. The majority of the stakeholders of a school district know very little about all the implications that have to be considered  when implementing an 1:1 and just because a device is wildly popular commercially, does not mean it will be able to used in a classroom effectively.
Even before our district even considered implementing a 1:1, dividing camps were forming in our district over what would best for our elementary curriculum.  We spent many meetings discussing what form-factor would best enhance our elementary curriculum. Some of these meetings were quite heated because each age group was very passionate about their curriculum.  After many gatherings and a trip to Chicago area school districts, we could not decide what device and LMS would be best for our PreK-4th grades.  Our planning team decide to go ahead with a secondary pilot at our Freshman Academy and do more research  before starting an elementary pilot. This did not go over well for some stakeholders in our district who did not understand that a successful 1:1 is all about the curriculum.
Elementary Device Pilot: March 2014