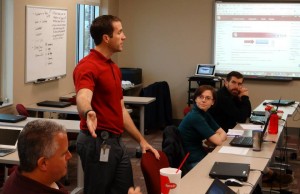 Next to the infrastructure, nothing is as important as PD when it comes to implementing an 1:1. When it comes to training the teachers participating in the 1:1, a few things were learned in the process.  First thing we did different when it came to PD was trained teachers by subject area. This was for two reasons:
Size: Too many times technology PD is large groups of 20 or more. The trainer is not able to assist every teacher in the room and this leads to teachers feeling like they are not participating and they start to disengage. This disengagement leads to teachers talking and distracting other teachers.  Another thing I noticed is the negative people find each other….. especially with required PD. Our largest training session was 11 teachers.
Common language: When teachers are trained in smaller content area groups, the participants can speak the same language. Especially when it comes to a 1:1, you need  something that is familiar to all participants since many of them will be unfamiliar with the technology you are training on.
Have mouse will train: Make sure the device you are training on does not distract the participant from your goals for the training session. During the training we used laptops and the problem with laptops is that many of them have terrible trackpads and teachers find them frustrating. I made computer mice available during training. I did not want their frustration with the trackpad reflecting bad on the UI of the LMS.