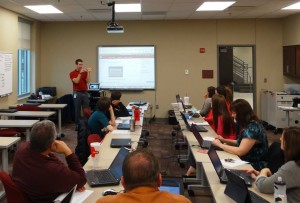 We split our PD into two days. Each subject area trained for 3 hours on each day. We didn't want to overwhelm the teachers with a full day training session. The first day we trained on the LMS. The teachers set up their courses and shown some of the tools available with the LMS. We gave the teachers two weeks to play with the LMS and had another 1/2 day of training. The goal of this second day was all about identifying each teacher's A and B.  This is where the content area distinctions really played off. The math teachers could look at the LMS and see how they could use it with their content.
For the most part this format was successful.  We noticed that many teachers did very little between the first training and second training .  Because of this, they were not ready to identify how they could use the LMS during the pilot.  For the next round of training for our 10th grade teachers, we will change a few things.
Update: Fall 2014
During the month of October we trained the 150 high school teachers. We divided the training sessions by subject area. Each group trained for 3 hours. During this session, be then divided the group again by comfort level with technology. Teachers who had completed some online training using our LMS, stayed together while the teachers who hadn't published their coursed or started using the calendar in the LMS, went with our Technology CRI to get more one-on-one training. This worked out great. Not only did the more advanced teachers feel more comfortable asking questions and collaborating with teachers at their level, the less tech savvy teachers felt less stressed.  Training teachers are no different than teaching students. You have to differentiate to meet the needs of the learners in your classroom.