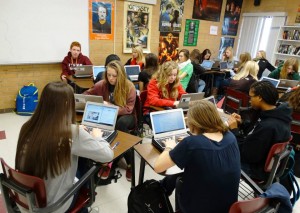 Integrating technology into the classroom is not a new concept, but it is not included in many professional teacher plans of study. Teacher are fearful of technology or just frustrated with it. In many school districts technology has been purchased without a vision of how it can enhance the curriculum. In some districts the infrastructure was so bad that teachers have lost interest in using technology in their classroom. This is harmful for their student as we are failing to prepare them for their future.
Districts need to work hard to get their infrastures ready, their curriculum aligned and essential technology purchased, trained and implemented. Without this in place, no 1:1 will be successful in changing the way we educate our students and prepare them for the 21st century.
Continuous Improvement:
Required technology professional development: If students are required to meet technology standards, their teachers need to meet the same standards. Districts need to require and offer PD on not just technology but technology integration. Software PD needs to be moved online and face-to-face technology PD needs to reserved for integrating technology into quality curriculum.
Hire the right teachers: If districts want an 1:1 environment throughout their district, they need to hire teachers who can implement this vision in their classroom everyday. Set the expectation high enough and the right teachers will come, stay or move on. If your district thinks an 1:1 is important enough to invest the type of money to purchase the technology, they need to make sure they have teachers who can make sure this investment is productive.