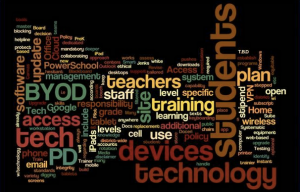 Two years ago our district pulled together a group of people that represented every site and department.
This district technology committee (DTC) was created first to develop the technology curriculum continua for our district. After the group had completed this task, we started to use this group to help assess our district's current and future technology needs. Last year we focused on 2 and 5 year goals.
The DTC 2 & 5 year goals were divided by:
The technology we selected for our 1:1 came from the DTC recommendations. The sub-group responsible for hardware said they needed a device that:
Had a battery that could last all day.
Booted quickly
Was cost effective
Updated automatically
Your district will need to evaluated the technology your stakeholders desire. A Google Chromebook worked for the majority of our classrooms, but it may not be the best device for your district. We found out that our secondary classes could use a Chromebook, but we could not decide which form-factor would be best for our elementary curriculum.